Hi Everyone!
Happy TGIF!!! I don't know about you all, but this has been a VERY long week, so I'm thrilled for the weekend to finally be here. My son is with his grandparents, so the only plans this weekend are to work on some crafts & do some blog hopping. He's been gone since Wednesday & I missed him as soon as he left, luckily he's been good about calling everyday so far. He checked out Davidson College in NC yesterday & he was very excited to tell me all about it, then he goes to visit some more family (his dad's side) & is extra excited because they have big plans to go out on the lake boating & jet skiing. I'm glad he is having a great time, but I can't wait for him to return on Monday. Hubby & I are taking him to VA Tech, UVA & UNC in the next couple of weeks. I can't tell you how much I have enjoyed his being with us the whole summer, normally he would be going back & forth between our house & his dad's, but this year he decided he wanted to be home with me & my hubby. I'm so grateful, especially since this is really his last summer so to speak since he will be a Senior this year. Can't believe how all the years just fly by, I tell you I DON'T like it, not one bit..lol
Ok, so on to some Freebies & Deals I thought you all might like-
This first one is just some AWESOME info about using multiple coupons at Michahels & Joannes, you should really check it out, I had no idea that you could use other competitor coupons. It comes from Deborah of

Society of Stampaholics

via The Paper Craft Planets newsletter, I'm sure most of you already know of them but here is the

link

to their home page & then you can sign up to receive their newsletters in you want. They have lots of great info.
These next 3 come from a blog called

So Cal Coupon Mommy

(she has access to lots of freebies & coupons!
-

Free Shape Magazine for a year

(you do have to do have to join a free membership)
-

Free Martha Stewart Magazine for a year

(same deal as above)
(this one requires that you
sign up for their e-mails (sometimes contain coupons) and then you will be able to print the coupon!
-How about a

Free Card

from the Cardstore.com (link gets you to the coupon code)
-Who love Christmas in July, this is Giveaway Blog Hop (checkout all the other
giveaways she has going on too)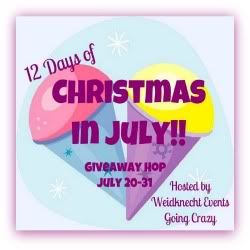 -
Here's a

Free Digi Stamp

from Bugaboo to go along with the Christmas in July theme, plus
they have a Christmas in July promotion where you can get 50% off all Digi's!!!
Now that's
awesome!!!
Ok, so on to the project I thought I would share. This is a card I made for one of my sisters several months ago after she had her last day of radiation. Yaaay Hurraay-we went out to dinner to Celebrate as well. A little something different for me, so it was fun & she liked it, hope you all like it as well.
Recipe-
Cardstock-PTI
Pattern Paper-K&Company-Classic Charlotte
DieCut & Stamp-MCT
As always, Gilby & I love your comments, his tail just wags away when he see's me smile!
Thanks for stopping by!